MAPPI INTERNATIONAL Booth No.: AG06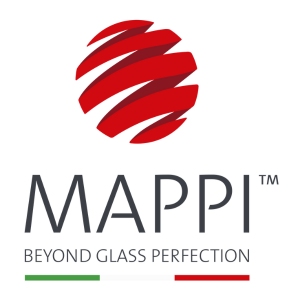 Company Introduction
Since 1993, Mappi International has been designing and manufacturing high quality tempering systems for the glass industry. Hundreds of plants installed all over the world represent the company's stages of steady growth, important investments in research and development, uncompromising quality, and great attention to the specific needs of each and every customer.
Mappi International uses in-house production for each and every product. This enables the company to have complete quality control over each component, guaranteeing the highest quality performance and functionality of its machines, constantly. Mappi America, located in Florida, enables the customer service department to reach each and every plant within 24 hours.
Mappi designs and manufacture machines that differ in size, but which share as many innovations and functionalities as possible: ATS 4.0 series and the Fox series offer the same levels of quality, which have always been much higher than the most stringent standards.
ATS 4.0 is the series of professional furnaces that contains all the Mappi International technology; their use guarantees great production and qualitative results through innovative solutions that respond to the most demanding requests of the market.
ATS 4.0 has dimensions from 1500 × 3800 mm to 3300 × 6000 mm, and is also available in customizable sizes. The ATS 4.0 series hardens glass with the highest optical and flatness standards, thanks to cutting-edge technologies that manage the tempering processes. ATS 4.0 increases productivity in a virtually continuous cycle with no downtime for the regulation of operating temperatures and most of the operating parameters.
Fox is a series of compact furnaces, with loading dimensions starting from 1050×2300 mm, designed for the needs of medium-small glassworks. Despite its small size, each Fox series machine has the most advanced features offered by technology in the sector, and guarantees high quality and cost-effectiveness even in small series processing.
MTH is the new arrival, for the ones who think big. MTH has a maximum load floor of 3300 x 6000 mm, a true "giant".  Such a large furnace demonstrates even more what it means to have the exclusive Mappi solutions that allow you to obtain excellent results and the maximum optimization of energy.  Last but not least new MTH is really beautiful, its angular lines, highlighted by LED lights, have a charm that had never before been seen in glassworks.
Thanks to important collaboration with Siemens, Mappi machines are, first in the entire glass industry, recognized as 'Powered by Siemens'. This means that they are ready to implement all MindSphere applications, ready to enter the world of industry 4.0, ready to change the way of working in the glass industry, with full integration between the furnace and all production processes, from planning to quality reports.
Another leap into the future is Supertemper, a great novelty in the tempering of fire-resistant glass. Thanks to a series of innovations, today every Mappi furnace can become a Mappi furnace with Supertemper functionality, and directly produce E30 certified flame resistant glass. It can do it in a faster, simpler, cheaper way than has always been done in this specific sector, and thus make a fundamental product for the safety and aesthetics of a large number of buildings more widespread and accessible.
From design to assistance, quality is at the center of every thought and every action of Mappi. This quality is found both in the design and in the range of products. User-friendly machines that have been designed to minimize downtime during shutdown and subsequent restart, along with the constant perfection of glass, and vast energy savings show just how Mappi produces tempering furnaces that go beyond perfection day after day. Nancy Mammaro, CEO of Mappi says: "Our payoff, beyond glass perfection, sums up in three words our everyday aim shared at every level and in every area in Mappi."
Over the years, Mappi has never changed its aim: to become the leader in tempering furnaces and manufacturing, and to constantly increase quality and customization to satisfy the specific needs of each customer.